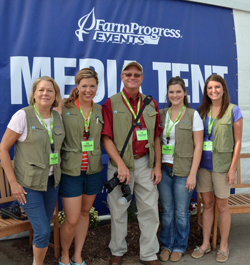 Here is your ZimmComm team at the 2013 Farm Progress Show, all fresh and ready to go – before we got to work and started wilting in the heat – standing in front of the new and improved **AIR CONDITIONED** media tent, sponsored by BASF.
This is our biggest team ever at any event! That's me, Cindy Z, on the left. Next is Leah Guffey, brand new to the team after a four year hiatus from the ag reporting business. Chuck is in the middle, flanked by his all female team members. Our new fall intern Kristyn Stidham is to Chuck's right and next to her is our darling expectant mother Jamie Johansen.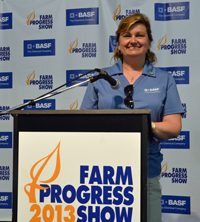 It may be 90-plus degrees out here this year, but as long as we are in the media palace, we are more comfortable than ever before, thanks to our wonderful friends at BASF. We seriously can't thank BASF enough for this great working environment. This is the first year that BASF has sponsored the media tent and Pat Morrow says they really wanted to upgrade to make it a first class working environment for the agricultural media who bring the important information to farmers and ranchers every day.
Listen to my interview with Pat here: Interview with Pat Morrow, BASF
2013 Farm Progress Show Photo Album
Coverage of the 2013 Farm Progress show is sponsored by Bayer CropScience, Growmark and New Holland