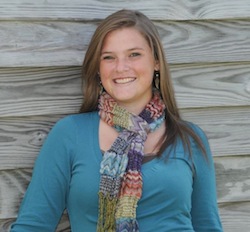 Our internship program kicked off at the beginning of the summer, giving a young college student interested in agriculture communications a chance to get their feet wet in the industry. Now the ZimmComm team would like to introduce our new intern for this fall.
Kristyn Stidham, grew up raising registered Angus cattle and growing pecans on her family's farm in Welch, Oklahoma. She currently attends Missouri State University and will graduate in May 2014 with a Bachelor's of Science in Agriculture Communications. Throughout her college career she has written for the William H. Darr School of Agriculture's Ag Review Journal and worked with the media team during the Missouri State FFA Convention. After graduation, Kristyn, plans to obtain a career in public relations for a agricultural based company while sharing her agriculture story.
Kristyn will jump onto the agri-blogging trail with us as we attend the Farm Progress Show at the end of August. You will also see her at other events throughout the fall snapping pictures and gathering interviews.