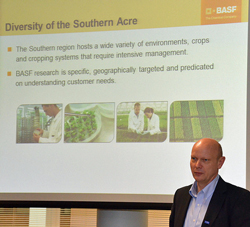 To paraphrase Spiderman, with great research dollars comes great responsibility – something that the Crop Protection division of BASF, The Chemical Company, takes very seriously.
"Our division is one of many divisions of BASF and one of the smaller divisions, but we have continuously gotten the highest amount of R&D dollars for our work," says Ulf Groeger, BASF Crop Protection North America R&D Director. "That means there is a responsibility on our side to have it pay off for the company."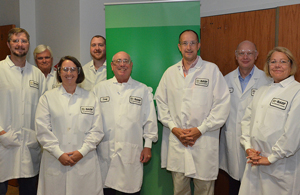 Ulf told the Southern Ag Media Symposium last week at BASF headquarters in North Carolina that it takes nearly $300 million and 7-10 years to bring a new product to market, and while corn and soybeans are a major market for them, southern crops are important as well. "In the area of herbicides, we are looking at Engenia, a new generation dicamba formulation for use post emergence on broadleaf weeds in dicamba-tolerant crops," he said. "We are also working a herbicide-tolerant rice system with a broad activity on grasses, including ALS-resistant grasses and red rice."
BASF has recently launched the new fungicide innovation Xemium for southern growers joining Priaxor and Merivon on the market, and they soon expect full registration for Sercadis for rice.
Listen to or download my interview with Ulf here: Interview with Ulf Groeger, BASF