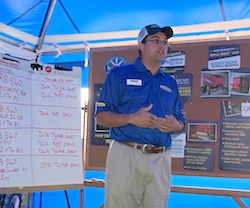 New Holland Agriculture's First in the Field event has taken place throughout the month of July. The event is designed to train and educate dealers on new products, but ag media had the opportunity to take it all in as well.
While enduring the heat in southern Texas, ag media spent the morning going through six checkpoints. Each station dug deep into the products new elements, gave a visual for hands on learning and time for some q & a. After a lunch of chicken and beef fajitas, we boarded vans to head out in the field. Ride and drive stations were set-up to allow for an up close and personal view of all the new bells and whistles.
During the event I chatted with Mike Cornman, New Holland Hay and Forage Segment Marketing Manager, about the importance of this event and how their innovative technology for 2014 will be desired by farmers across North America.
"As we prepare for season 2014 we have several new products when it comes to hay and forage equipment and felt it necessary to spot light that equipment, but not only tell the media about the equipment but have an opportunity for them to use the machines in the field and see them as they are cutting and baling hay."
Listen to my interview with Mike from here: Interview with Mike Cornman
View photos from the event here: 2013 New Holland Ag Media Event Photo Album