What is the future of SIV, or swine influenza virus? While most don't know the path SIV will take for sure, Dr. Marie Culhane may be a better predictor of both due to her work on SIV. Dr. Culhane is an associate clinical professor with the University of Minnesota Veterinary Diagnostic Laboratory and she gave a presentation on the Future of SIV during the Swine Link networking event July 13 in Des Moines, Iowa hosted by Boehringer Ingelheim.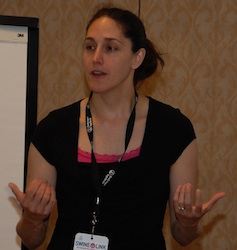 Dr. Culhane said she refers to SIV as the flu because influenza virus is a shared virus between humans, and animals. The viruses go back and forth so to designate the flu as a swine only virus is untrue.
During her presentation, Dr. Culhane began by giving an overview of SIV, and noted that the flu goes back hundreds of years and in the U.S. discovered influenza in around 1918 and was a normal virus that caused respiratory problems in pigs. However, in 1998 a new virus was introduced into pigs, H3N2. This virus came after H1N1 and since then, the two viruses co-infected pigs and started to exchange genetic components of the virus, or reassorting.  This has caused a lot of changes in viruses and pigs and thus a need for new vaccines.
Because of the challenges with the new viruses, Dr. Culhane said there has been a lot of collaboration and the industry has learned a lot. She touched on this during her presentation and also gave some tips for producers to help keep the flu from affecting their pigs and also some tips on treatment if their pigs come down with the flu.
Listen to my interview with Dr. Marie Culhane here: Thoughts on SIV
Listen to Dr. Marie Culhane's presentation here: The Future of SIV
Check out the photos from the event in the Swine Link photo album.