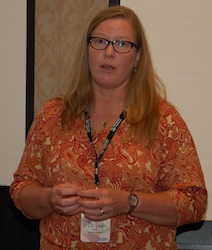 Wonder what is happening with biosecurity in the swine industry? You can get the 411 from Dr. Lisa Becton, director of swine health information for the National Pork Board, who gave an in-depth presentation during Swine Link sponsored by Boehringer Ingelheim. Becton discussed biosecurity as it relates to PEDv or the porcine epidemic diarrhea virus. PEDv was first confirmed in the U.S. earlier this year.
During the presentation, Dr. Becton gave an overview of PEDv, the actions to manage PEDv and some of the recommendations that have come about. She also discussed the current status of both the epidemiology survey that ASV is doing and some of the ongoing research.
She also noted that PEDv is not a new virus, nor is it a regulatory/reportable disease. Since PEDv is widespread in many countries, it is not a trade-restricting disease, but rather a production-related disease. PEDV may appear clinically to be the same as transmissible gastroenteritis (TGE) virus with acute diarrhea. She said it is very important to adhere to strict biosecurity protocols when dealing with the disease.

Listen to Dr. Lisa Becton's presentation on PEDv here: Biosecurity - PEDv Update
Check out the photos from the event in the Swine Link photo album.