The drought tolerance trait in Monsanto's Genuity® DroughtGard® hybrids recently received final import approval from China, a major market for U.S. corn grain and dried distillers grain solubles (DDGS).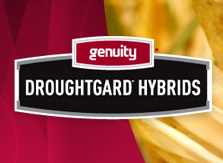 The approval was granted last week as part of a broader series of approvals and represents a significant step forward for technology approvals in China, according to Monsanto officials.
"The import approval of this trait is great news for U.S. farmers," said Lisa Safarian, U.S. Row Crops Lead for Monsanto. "With full import approvals in key export markets, farmers can market their grain more broadly this year and plant with confidence in 2014." Safarian added, "This approval also provides expanded access to another tool that can help farmers more sustainably manage their risk."
More than 250 farmers in the Western Great Plains planted DroughtGard Hybrids last year on their farms as a part of Monsanto's Ground Breakers® program. This year, the product was introduced in the Western Great Plains under stewardship requirements. Farmers who purchased DroughtGard Hybrids for planting in 2013 signed a grain stewardship agreement committing to use the grain as on-farm feed or to sell the grain for domestic use due to pending import approvals in key export markets. With the approval in China, Monsanto will remove the grain stewardship requirements, and grain will no longer be required to remain in the domestic market.

Read more from Monsanto press release.