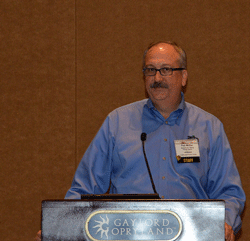 The American Seed Trade Association introduced their new seed advocate program at the 130th ASTA annual meeting. The intention of the program is to help grow grassroots leadership to communicate with policy makers about the seed industry. "We will provide them with the information and tools they need so they can continue that interaction with their government employees for positive policy for the seed industry," Pat Miller, Director of State Affairs for ASTA, said.
Miller said the main issue that they are looking at advocating currently is favorable labeling laws for genetically modified seeds. He said that ASTA also monitors policies that affect taxes and regulations of the seed industry. Members of the seed advocate program would receive information from ASTA on issues like these to be able to engage their local policy makers in conversations about them.
According to Miller, anyone interested in the seed industry can be a seed advocate. People involved in advocacy currently range from large corporation representatives to location managers. If you are interested in more information about the program or would like to get involved, click here.
Listen to an interview with Pat Miller conducted by Meghan Grebner, Brownfield Ag News, here: Interview with Pat Miller