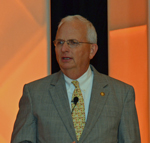 Georgia Commissioner of Agriculture Gary Black was very pleased to have the International Food & Agribusiness Management Association (IFAMA) host its 23rd annual World Forum in the Peach State.
"Thank you for choosing our capitol city to be the host for this wonderful meeting," Black said in welcoming the group on Tuesday. "It's a great opportunity to celebrate what we all have in common – the future of agriculture."
Black says agriculture is still the number one industry in Georgia, which ranks at the top in several commodities. "Five billion dollar poultry industry, still leading the nation in combined poultry for meat and eggs," he said. "We lead the nation in pecan production, pulp for paper and wood products, and we're still number one in peanuts." But, the ag commissioner is quick to note how much the state has diversified. "We've just had the first harvest of olives on the eastern coast of America," he said proudly and the state's fruit and vegetable industry is worth over a billion dollars a year.
Tonight's gala banquet will be held at one of the world's largest food industry companies, Coca-Cola, proudly headquartered in Atlanta since its founding in 1886.
GA Ag Commissioner Welcomes IFAMA
Interview with Gary Black
IFAMA 23rd World Forum Photo Album