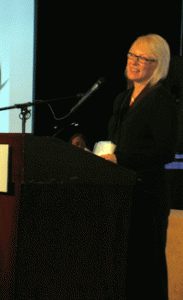 Risa DeMasi was elected as the second Vice Chair of ASTA at the 130th ASTA annual meeting. This election is marks a memorable moment for ASTA as DeMasi is the first woman to be elected an officer. She will serve a three year term in which she serves as the second Vice Chair in 2013-2014, the first Vice Chair in 2014-2015 and the Chair in 2015-2016.
As a member of the officer team, DeMasi hopes to focus on creating open and effective dialogue across the diversity of the seed industry. "I'm really looking forward to facilitating more conversations on behalf of my sector," DeMasi said.
DeMasi is on the sales team at Grassland Oregon, which specializes in turf grasses, forage grasses and cover crops.
Listen to my full interview with DeMasi here: Interview with Risa DeMasi