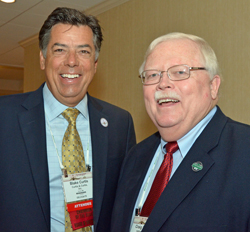 The current and incoming chairmen of the American Seed Trade Association (ASTA) are pleased with the state of the industry and looking forward to a bright future.
Blake Curtis, Curtis & Curtis, has served as the chairman of the organization for the past year, which he says has gone by very quickly. "It has been a year of successes," he said. "A number of things our past chairman put into effect we've been able to finish up this year – the strategic plan, intellectual property rights protection bureau – these are on-going projects that we've been able to bring to fruition and implement."
Newly-elected chairman Craig Newman, president and CEO of AgReliant Genetics, is especially excited about the future of the industry and ASTA's Future Seed Executives (FuSE) program. "I'm one of the mentors of one of the students and actually our company has already hired three of that group already," he said.
Nashville has been a great venue in the heartland for the convention and both Craig and Blake are really looking forward to racing into the future for next year's convention in Indianapolis.
Both Blake and Craig have lots more to say in this interview: Interview with Blake Curtis and Craig Newman