Robert Fogarty, photographer and founder of Dear World, may not think he's changing the world but I might disagree. He takes pictures of people who are changing the world but in the process he's doing his part to do the same.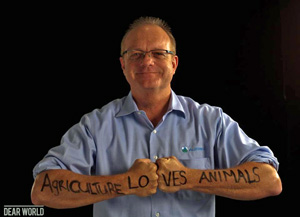 So who is Robert Fogarty and what is Dear World?

We aren't changing the world, but we take pictures of people who are.
I take pictures. They started as photographic love notes to New Orleans, where people know what it's like to nearly lose something. We learned that you can never lose your voice.
Now I ask people to share one meaningful message with family, friends and strangers.

In this week's program I talked with Robert about how he got started on an adventure that has taken him around the world where he has met and photographed some names you'll surely know. Hey, like me! The photo of me is from last week's Farm Credit Idea Share. Robert was there to "do his thing" with us and that included our sharing of messages about agriculture in his unique way. You can see a number of the photos from the event in the Farm Credit Facebook page.
Robert would like to help you with your message to the world. All you have to do is contact him.
Listen to my conversation with Robert in this week's program here: Robert Fogarty - Dear World
Thanks to our ZimmCast sponsors, GROWMARK, locally owned, globally strong and Monsanto, Roundup Ready Plus, for their support.