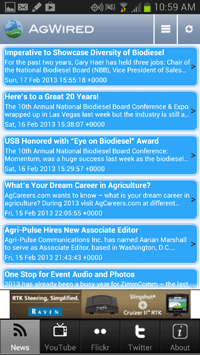 It's a phone. It's a small tablet. It's a phablet. Actually, it's the Samsung GALAXY Note II seen here sporting the AgWired App (Got it on your device yet?). I know my Android buddies are wondering about me now. Saying nice thing about an Android device. But I do have an open mind!
After enjoying a Droid Razr as my backup phone and hotspot for a while I've upgraded to one of these bad boys. We're talking serious agvocating tool. It's not going to replace my iPhone 5 which is number one in my gadget arsenal but I'm having fun with it so far. The screen is huge and beautiful. I've set up and tested the hotspot once and it works great. I've got it on Verizon and with their backup app it was as simple as moving my sim card and turning the device on to get things started with all my apps, contacts, etc. showing up. Of course I have had to re-populate my home screens but that's simple.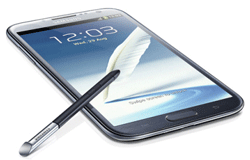 The battery life on this thing seems excellent so far. I have used it off and on for almost three days (very little phone calling) and haven't had to charge it yet. That is a good thing. I'm also a fan of the hidden pull out S Pen that comes with the device. I like using a stylus and this reminds me of ones I used to use on the old Palm Pilot. Remember them?
So, that's just a quick look at a device you might consider for your ag applications work. However, as you'll see in the ad below, there's still the iPad mini that takes current top honors as my favorite in the tablet arena. We like it so much that we're giving one away to one lucky farmer on our Precision Pays website. In fact, the contest is open for several more weeks so enter now!