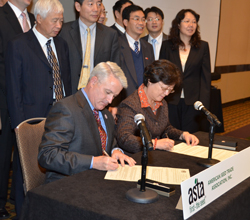 Leaders from the American Seed Trade Association (ASTA) and the China National Seed Association (CNSA) signed an historic Memo of Understanding today to promote cooperation relating to innovation in the seed industry, said ASTA president Andrew W. LaVigne.
"This agreement achieves two extremely important goals," said LaVigne. "First, it is an important first step in providing new business opportunities for the world's two largest seed industries; and second, it will ultimately work toward increased farmer productivity."
The MOU reflects both parties' desire to promote mutual interests through cooperation, information exchange and training in the areas of intellectual property rights, quality seed, science-based phytosanitary measures, seed movement and innovation in the seed industry on the basis of equality and mutual benefits.
Listen to remarks from ASTA Chairman Blake Curtis and several members at MOU signing: ASTA-China MOU Signing
Listen to Brownfield's Meghan Grebner interview with Andy LaVigne on MOU:
Andy LaVigne Interview