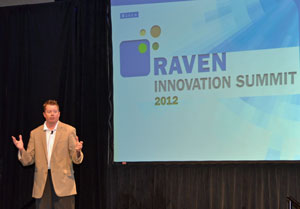 The Raven Innovation Summit this week was a great chance to get to learn more about this dynamic and diverse company that manufacturers precision agriculture solutions.
This year was the 10th Innovation Summit and the first time that the company invited media to attend the event that brings Raven partners from around the world to company headquarters in Sioux Falls, South Dakota, according to Paul Welbig, Director of Marketing, Product Management and Slingshot Operations for Raven. "The reason why we did that is we have a big story to tell," Paul said. "We decided to broaden the audience and help the ag media understand what Raven can offer and help communicate that message back out to the growers and others in the agribusiness community that helps to feed the world."
The summit highlighted all of the Raven precision products and what is new, including a new smartphone app to see them all in the palm of your hand. "It's basically a mobile product guide of Raven technology that's very interactive," said Paul. The app is available on both iPhone and Android platforms – just search for Raven Product Guide in your store. I should note that Raven has been the primary sponsor of our Agwired app since we launched it two years ago, which just proves how they embrace and support new technology!
This was a great event and I have to especially commend Jessica DeJong, Marketing Communications Coordinator, who for some reason I never got a photo of at the event. Which is sad because she looked fabulous every day even though she was fighting laryngitis that kept her from speaking above a whisper. By the third day she was in much better voice and through it all she was smiling and a great pleasure to work with.
Listen or download to my interview with Paul where he talks about the summit, what's new, the new app, Raven's global presence and more:
Interview with Paul Welbig, Raven
Check out photos from the summit – except any of Jessica! – at the link below:

2012 Raven Innovation Summit Photos