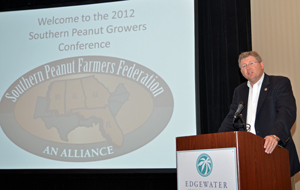 Peanut growers are very happy with House Agriculture Committee Chairman Frank Lucas (R-OK) for his work in crafting a farm bill that is very different than the Senate bill in that it addresses the needs of southern farmers.

Speaking at the Southern Peanut Growers Conference in Panama City Beach on Saturday, Rep. Lucas (R-OK) went through the process of how his committee worked to mark up a farm bill, technically called the Federal Agriculture Reform and Risk Management (FARRM) Act, following the legislation that was passed by the Senate. "The Senate language works really well in the Midwest, but it doesn't work very well, according to my experience as a farmer, for everybody else," he said. "It violates that fundamental rule of everybody needs to be able to participate."
During a press availability after addressing the farmers, Lucas talked about might happen now with the bill, since Speaker of the House John Boehner (R-OH) has yet to commit to bringing it to the floor. "I served with him for three farm bills, John understands the base principals," he said. "Mechanically, in the US House, it's actually the majority floor leader who assigns floor time. That's Mr. Cantor's responsibility. So, I'm spending time with both of them."
"But, regular order, or whatever process we have to take, we have to have a farm bill," he said.
Listen or download Lucas' press availability or watch the video below. Rep. Frank Lucas
Check out the SPGC blog for his remarks to the growers and see the SPGC photo album for all pictures from the event.