"Fertile Ground, Forward Thinking" is the theme for the new National Agri-Marketing Association Fall Conference. The event will be held at the Graves 601 Hotel in Minneapolis, MN, September 25-26.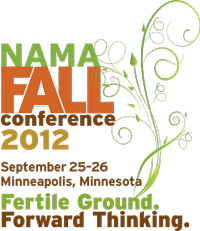 To learn more about the new NAMA Fall Conference I visited with NAMA President, Beth Burgy, Broadhead. She says the conference will be new and different this year with a sub-theme of "Celebrating Leadership." The conference will be targeted to the mid level agrimarketing professional looking to take the next step in their career. At the same time NAMA will recognize the 200 plus volunteers who devote time and resources into making the organization work.
A farm tour is also being planned for the fall conference to take place the day before the conference kicks off. Programming is in the planning process right now but current and potential NAMA members are encouraged to block the dates on their calendar now and watch for the announcement of the opening of registration soon.
Listen to this week's ZimmCast here: 2012 NAMA Fall Conference
Thanks to our ZimmCast sponsors, GROWMARK, locally owned, globally strong and Monsanto, Roundup Ready Plus, for their support.
The ZimmCast is the official weekly podcast of AgWired. Subscribe so you can listen when and where you want. Just go to our Subscribe page.