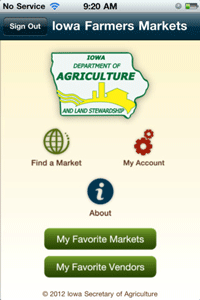 Iowans now have a mobile way to locate a local farmers market thanks to the Iowa Department of Agriculture and Land Stewardship. Listen to Iowa Secretary of Agriculture Bill Northey talk about it today: IA Sec. of Ag Bill Northey
Iowa Secretary of Agriculture Bill Northey today unveiled the free Iowa Farmers Market app for smartphones that is designed to help Iowans access the more that 230 farmers markets serving Iowans across the state.
The app is available for both iPhones and Android phones and allows users to find the farmers market closest to them by using GPS location services or to search for specific farmers markets by city or zip code. Once they have located a market, the user can view the hours of the market, browse a list of vendors and see a phone number and email address of the market manager. App users can also leave reviews of the market and vendors and upload their photos to share with others.
"This app will make farmers markets easier to find and give visitors useful information as they plan their trip," Northey said. "We are entering prime market season when sweet corn and many other fruits and vegetables will be available, so I hope Iowans take advantage and enjoy this fresh produce and use this app to help them locate a market."
The app is free to download and is available through Apple's App store and Google Play by searching "Iowa Farmers Markets." The app for android phones can also be found at https://play.google.com/store/apps/details?id=com.utc.titaniumapns2, and the link for Apple devices is http://itunes.apple.com/us/app/ia-farmer-mkts/id501591188?ls=1&mt=8.