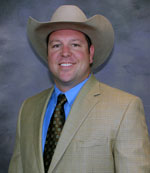 The 2012 Livestock Marketing Association's (LMA) World Livestock Auctioneer Champion is Bailey Ballou of Elgin, OK. Bailey participated in a press conference call just now which I thought I'd share with you in case you couldn't be on it or are interested in what Bailey had to say. The competition was held last Saturday in Turlock, CA. If you listen in below you'll hear that Bailey is going to be a champion spokesperson for animal agriculture during his coming year!

Raised in southwest Oklahoma on a dairy farm, Bailey attended livestock auctions with his grandpa. Like many children, he was enamored with the auction chant and would try to emulate it while at play. When he realized, as an adult, that he would like to make a career of the art of bid calling, he set out for auctioneering school in Missouri. That was in 2003.
Nine years later, he assumes the title of 2012 World Livestock Auctioneer Champion on his fourth attempt, having competed previously in 2006, 2008 and 2010. Bailey was sponsored by Oklahoma National Stockyards, Inc., and Oklahoma City Livestock Exchange, both of Oklahoma City.

As champion Bailey takes home a 2012 Silverado pickup to use during the year of his reign; $5,000 cash; a championship sculpture; world champion Gist belt buckle and a hand-tooled leather briefcase from LMA; world champion ring sponsored by Turlock Livestock Auction Yard, Inc.; the Golden Gavel Award sponsored by the World Wide College of Auctioneering; and a James Reid, Ltd. money clip sponsored by CattleUSA.com. That's a pile of winnings!
So if you'd like to get to know Bailey a little better then take a listen: Bailey Ballou Press Call
You can also hear what his chant sounds like here: Bailey Ballou Chant