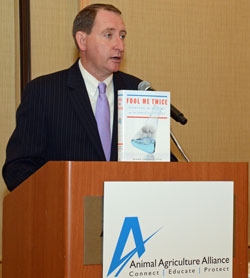 The Chairman of the Animal Agriculture Alliance, Chris Ashworth, closed out the 2012 Stakeholder Summit after introducing our final speaker. I visited with him to learn how things are going with the organization.
Chris talks about the fact that they are celebrating 25 years of advocating for animal agriculture representing all animal species. He says that this past year they've had a lot of success at the state level impacting legislation that supports agriculture. He says the Stakeholders Summit had a record attendance and that social media came to the forefront as a tool to communicate agriculture's message. Yes indeed!
You can hear my interview with Chris here: Interview with Chris Ashworth
2012 Animal Agriculture Alliance Stakeholders Summit Photo Album
Thanks to the National Cattlemen's Beef Association and United Soybean Board for their sponsorship of our coverage of this year's Summit.