Kyle Bauer, general manager of KFRM radio in Kansas was the emcee of the "Best of Beef 2012" awards Thursday morning at the Cattle Industry Convention in Nashville.
Among the many awards presented were – National Retail Beef Backer, Foodservice Beef Backer, Beef Quality Assurance, Excellence in Communications, Trailblazer, National Stocker, NCBA Top Hand Club, the Max Deets Leadership and CME Group Beef Industry Scholarship awards, and Environmental Stewardship regional winners. Check out the 2012 CIC photo album to see pictures of pretty much all of the winners.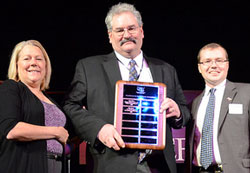 AgWired, with our parent company ZimmComm New Media, was proud to sponsor the NCBA Excellence in Communication awards for the second year of their existence. The awards recognize communications professionals from NCBA state affiliate organizations and cattle breed associations, as well as an agricultural journalist. The recipient of the 2011 Excellence in Communications and Public Relations for a state affiliate is Carmen Fenton, director of public affairs for the Texas and Southwestern Cattle Raisers Association (TSCRA) and for a breed affiliate is Angie Stump Denton, director of communications for the American Hereford Association (AHA).
Pictured with me and NCBA Communications guru Mike Deering is the winner of the 2011 Excellence in Agricultural Journalism award – Pete Crow, publisher of the Western Livestock Journal (WLJ). Crow's family has been publishing WLJ every week since 1922.
All of the communications award winners will also be recognized at the media reception this evening.