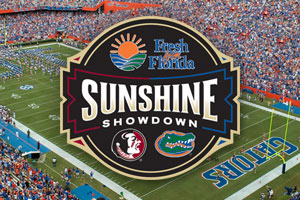 Fresh from Florida seafood keeps you at the top of your game. The Florida Department of Agriculture and Consumer Services just announced that it is teaming up with the Florida Gators (my team) and the Florida State Seminoles to "harness the home team passion associated with the athletics rivalry and direct it towards supporting Florida products. The partnership leverages every game, match and competition between the two teams in 18 sports to promote Fresh From Florida." Now that's a major sponsorship! It all kicks off this week with the Saturday football game which is now being called the Sunshine Showdown.

The tradition-rich Florida Gators vs. Florida State Seminoles football game will serve as the signature event of this partnership to communicate the importance of all that's Fresh From Florida to an audience that is uniquely Florida: Gator and Seminole Fans. This year's matchup of the Florida Gators and Florida State Seminoles football teams will be titled the "Fresh From Florida Sunshine Showdown," scheduled for November 26 in Gainesville. The Fresh from Florida Sunshine Showdown will highlight the importance of supporting Florida farmers and fisherman and communicate the impact of buying home grown and harvested products from Florida.
"The Fresh From Florida Sunshine Showdown brings two of Florida's great teams head to head," said Agriculture Commissioner Adam Putnam. "As each side cheers for their home team, we're hopeful they'll support Florida's ultimate home team, Florida's farmers and fishermen."

Here's one of the tv ads for the campaign featuring Florida Coach Will Muschamp.