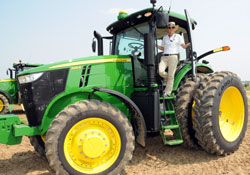 The most fun part of the John Deere product launch is getting in the cab out in the field. I rode along with Jessica Kroug, Program Development Program, 7R Series Tractors. We were in a 7215 R model. See what it's like in the video below.
Our ride and drive track provided multiple real field conditions and situations. The tractor is unbelievably comfortable and with the heat we had the air conditioning was a welcome relief. Here's some information on the new model line.

With a focus on increased power, versatility, capacity and improved operator comfort, John Deere introduces the 7R Series Tractors for the 2011-2012 season. These completely new row-crop tractor models have many of the performance features found in the larger 8R Series, making them even more productive in the field.
The five new 7R models available this fall include:
7200R – 200 engine horsepower; PowerTechTM PSX 6.8L Engine
7215R – 215 engine horsepower; PowerTech PSX 6.8L Engine
7230R – 230 engine horsepower; PowerTech PVX 9.0L Engine
7260R – 260 engine horsepower; PowerTech PVX 9.0L Engine
7280R – 280 engine horsepower; PowerTech PVX 9.0L Engine
The 7R Series Tractors come with a wide array of new customer-driven features including the new IVT and Command QuadTM transmissions, options for larger tires, compact chassis, and greater engine horsepower ratings. These features give the 7R Tractors the versatility to handle the tillage, planting, haying, loader work and many other tough chores on the farm.