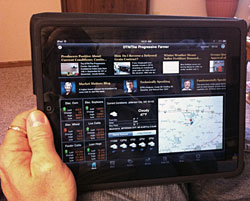 It's nice to see the big boys catching up to us little boys! LOL. DTN/The Progressive Farmer now has a free iPad app (opens iTunes) and it's really well done. I've added it to my iPad and first impressions are that content is intelligently layed out and easy to navigate. Information opens and refreshes quickly on my wifi. I like seeing posts from their blogs and videos along with "traditional" information like news, wx and markets. Have you tried the app yet? Your impressions?

As a new breed of mobile and technology-savvy professionals increases within the agriculture industry, DTN/The Progressive Farmer continues to lead the way in providing solutions that keep pace with the evolving needs of farmers and agribusinesses. For the first time, professionals can have enhanced access to award-winning agriculture news, market data and industry-specific weather information offered in an optimized format for iPad users.
With the flick of a finger, iPad users are able to browse breaking industry news, access more than 13 blogs from DTN/The Progressive Farmer editors and analysts, and view daily weather and market videos. Additionally, the app offers users commodity market data, charts and graphics as well as interactive, location-specific weather information and maps. Knowing agriculture professionals are rarely confined to their office, farmers can quickly access the DTN/The Progressive Farmer while they have a Wi-Fi or 3G internet connection and download the latest industry information that they can take with them and access whenever and wherever it is most convenient for their busy schedules. The DTN/The Progressive Farmer agriculture app is available for free at www.dtnpf.com/ipad (opens iTunes).

Remember that you can also get AgWired on your iPad or iPhone with our AgWired App. We've had over 1,000 people download it and are still seeking a sponsor! A sponsor would let us take it to the next level which would be optimization for iPad! Interested?