The U.S. Grains Council (USGC ) made a significant announcement during a press conference at Commodity Classic last week with the announcement of key speakers for the upcoming Global Food Security Symposium, which is sponsored by the organization. USGC Chairman Rick Fruth confirmed that U.S. Secretary of Agriculture Tom Vilsack is expected to deliver the keynote address at the symposium, scheduled for April 7, 2010, in Tokyo, Japan. This announcement came shortly after the Global Food Security Symposium was formally introduced in Tokyo by USGC President and CEO Thomas C. Dorr and U.S. Ambassador to Japan John V. Roos.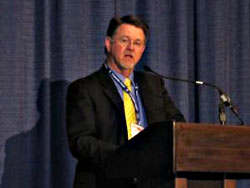 The Symposium will gather U.S. and Japanese government, agribusiness and biotechnology leaders for a first-ever, day-long examination of how international cooperation, policy and technology can be used to feed a burgeoning world population. More specifically, Fruth said, "The key points of discussion will be, how to leverage biotechnology and other emerging technologies to improve the quality of life and global economy, how the world's economic powers can harness these technologies for the benefits of developing countries around the world and how can we build upon this these past successes to increase food security around the world."
Fruth also noted that sustainability and biotechnology are an inherent part of this symposium as you can't have global food security without using biotechnology or develop new technologies that are not sustainable.
The Symposium is part of the "Partners in Agriculture" series of events being held throughout Japan from March through May of 2010. The "Partners in Agriculture" events celebrate the successful, enduring agricultural trade partnership between the United States and Japan. This event goes hand-in-hand with the mission of USGC which is to develop overseas markets for U.S. corn, barley and sorghum and enbable trade around the world for these commodities.
You can listen to the announcement below.
AgWired coverage of the 2010 Commodity Classic
is sponsored by:

and