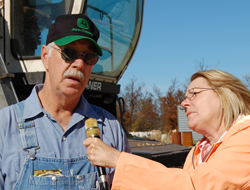 At least some farmers are finished with their harvest.
BASF sent me to southwest Missouri last week to visit with a couple of farmers in Purdy about their harvest. I told you last week about world famous Kip Cullers' harvest, today we hear from his neighbor, Curtis Schallert – who also uses Headline fungicide, by the way (no coincidence!).
Curtis says the wet weather posed some challenges but he got it done. "We got a good start at the end of September," he told me. "We got finished up about ten days ago with our corn before the last big rain, so compared to most we are very fortunate."
He grows wheat, soybeans and corn and uses Headline on most of his acres. "I started with Headline and was satisfied with the results on my wheat and soybeans and in the past few years started using it on corn," he said. He uses Headline on select acres of his corn and estimates that he gets a 6-7 bushel per acre increase in yield for those acres.
Here is a YouTube video of my interview with Curtis.