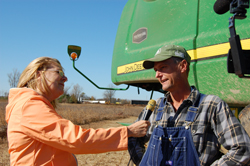 The harvest is running about a month behind schedule just about everywhere, including Missouri, which only had half the corn crop and a third of the soybean crop harvested as of November 1.
BASF sent us out on the road this week to talk to some farmers about the late harvest and we started at the top, with World Soybean Yield Champion Kip Cullers of Purdy, who says this is the latest harvest he has ever seen. "We started combining corn August 12 and its now November and I've never combined corn in my entire life in the month of November, we should have been done a month and a half ago, and we've just barely started on soybeans," Kip said.
Nevertheless, Kip says he is still seeing good yields, thanks to Headline fungicide. "Probably 15-20 bushel an acre increase in corn and about the same in soybeans," he said. This year in particular he notes the importance of standability in the corn that has not yet been combined. "We sprayed Headline on every acre of corn and the corn's actually standing there waiting on us, but some of my neighbors' corn that don't have Headline on it and it looks like a tee-total wreck to me."
Here is a video interview with Kip, along with some B-roll video of him harvesting beans this week, followed by the audio from the interview. And check back for more Headline harvest reports over the next month or so.