The prize doesn't always go the most deserving, and this was certainly the case with the 2007 Nobel Peace Prize. I was emailed this story the other day, and it's an inspirational tale of a woman who never quite earned the recognition she deserved for her courageous acts. Read this story provided by Snopes, and you'll see why…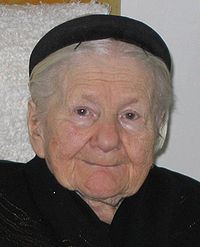 There recently was a death of a 98 year-old lady named Irena. During WWII, Irena, got permission to work in the Warsaw Ghetto, as a plumbing/sewer specialist. However, she had an "ulterior motive." She KNEW what the Nazi's plans were for the Jews, (being German.) Irena smuggled infants out in the bottom of the toolbox she carried. She also kept a burlap sack in the back of her truck for larger kids. She also had a dog in the back that she trained to bark when the Nazi soldiers let her in and out of the ghetto. The soldiers, of course, wanted nothing to do with the dog and the barking covered the kids/infants noises. During her time of doing this, she managed to smuggle out and save 2500 kids/infants. She was caught, and the Nazi' s broke both her legs, arms and beat her severely. Irena kept a record of the names of all the kids she smuggled out and kept them in a glass jar, buried under a tree in her back yard. After the war, she tried to locate any parents that may have survived it and reunite the family. Most of course had been gassed. Those kids she helped got placed into foster family homes or adopted.
In 2007, Irena was up for the Nobel Peace Prize…She was not selected. Al Gore won, for a slide show on Global Warming. LET'S SEND THIS ONE AROUND THE WORLD! GOD BLESS HER! May she rest in Peace.
Note: Sendler's story was brought to light in the United States when students in Kansas found it described in a magazine and popularized it through their original play Life in a Jar. On April 19, 2009, The Courageous Heart of Irena Sendler, a Hallmark Hall of Fame production written and directed by John Kent Harrison and starring Anna Paquin in the title role, was broadcast by CBS.