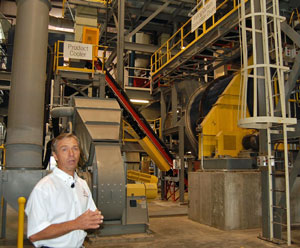 Media got the first look at the Allen R. Sutton Stabilized Nitrogen Center prior to the official grand opening on Tuesday in St. Louis and our tour guide was Dan Kuttenkuler, project manager for Lange-Stegmann and AGROTAIN International.
Dan explained how the center uses a falling curtain granulation process for quality control and production efficiency. The process allows finished products to be manufactured to a specific size for different markets. "By varying the size of the holes in the screens we are able to control the final size of the product," Dan says. "We have an agricultural market which is used to grow corn, wheat and cotton, we have a turf and ornamental and we also serve the golf industry which is very specific in terms of types and height of grasses."
The Center is designed to meet the increasing demand for stabilized nitrogen fertilizer, with a production capacity of 125,000 tons annually.
Listen to an interview with Dan here: agrotain-kuttenkuler.mp3