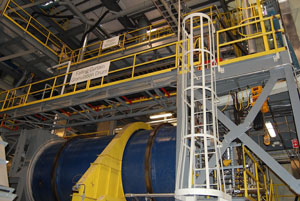 When Lange-Stegmann acquired AGROTAIN eight years ago with that acquisition came Allen Sutton, vice president of business and product development. You could say the Stabilized Nitrogen Center that opened in St. Louis Tuesday was his brain child. Because of that, it will now bear his name – the Allen R. Sutton Stabilized Nitrogen Center.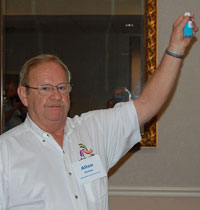 Making that announcement, Lange-Stegmann president Mike Stegmann explained that five years ago he asked Allen to find a way for customers to make their SuperU product at their own locations. "After a little while, he came back and said 'I don't think there is a way, but I found something better' and that something was the stabilized nitrogen center that you see here today," Mike said. They made the decision to name the center after Allen because of his "commitment and dedication to the technology, the company and the industry as a whole."
Allen's enthusiasm and excitement for the fertilizer industry was evident when he talked to the media prior to the opening ceremony and proudly displayed and discussed the company and products they offer for the agriculture, turf and ornamental and golf course industries.
Listen to an interview with Allen here: agro-allen.mp3