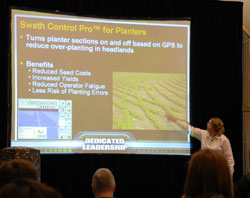 Kayla Reynolds works in the John Deere Ag Management Solutions area just like Mike Park. She was our teacher in the "classroom" part of our media/analysts session this week at the John Deere product introduction.
Kayla focused on 4 main topics related to precision ag. They are long range RTK, shading optimization, GS2 rate controller expansion and Swath Control Pro for planting. Don't worry if you're not familiar with what these mean. She explains it in an interview I did with her after her presentation.
It appears that John Deere has made some significant strides in the area of precision ag. For example the new long range RTK allows a grower to operate their equipment with sub inch accuracy at up to 12 miles from the base station instead of the 6 miles previously possible.
You can listen to my interview with Kayla here: launch-07-reynolds.mp3
John Deere Product Launch Photo Album
AgWired coverage of the John Deere product launch is sponsored by