When the American Phytopathological Society decides to hold a meeting they get serious about it. You can visit their website for a full (32 page!) brochure. I don't remember ever covering this organization as a farm broadcaster and am kind of glad. Try to say "American Phytopathological Society" three times real fast!

Plant Pathologists Explore Using Fungi to Control Plant Diseases
St. Paul, MN (June 8, 2005) – The use of endophytes, non-harmful fungi, bacteria, or viruses that naturally grow inside plants, is an emerging tool for managing plant diseases, say plant pathologists with The American Phytopathological Society (APS).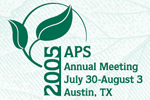 "Endophytes appear to have co-evolved with their plant hosts where the association can be mutually beneficial to both," said Paul Backman, professor of plant pathology, biological control and biosecurity, Pennsylvania State University, University Park, PA. "Recent research indicates that some of these benefits may be to suppress plant diseases and other stresses," he said. This subject will be one of many at the APS Annual Meeting.
For more information contact Amy Steigman.