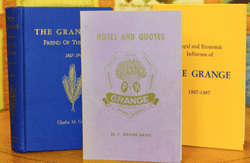 The National Grange just released their third e-Book. They're using my e-book store of preference, the Kindle Store.

On Oct. 12, the National Grange released "Notes and Quotes: On the Origin of the Ritual and Early Years of the Order of Patrons of Husbandry" as a Kindle download available through Amazon's Kindle Store.
The text, written by author C. Jerome Davis, delves into the early history of the Grange as well as the meaning of many of the ritualistic aspects of the organization.
The digital version of the 1974 text has 121 pages, including index, introduction and footnotes.
"'Notes and Quotes' provides an unprecedented amount of insight into the founding of our Order," National Grange President Ed Luttrell said. "C. Jerome Davis spent years researching and collecting the information that shaped this book. Not many people were able to read it when it was first published, due to a small run of printed copies, so I'm glad that people will finally get the opportunity to get their hands on this excellent book."
The National Grange has signed a 90-day exclusivity deal for "Notes and Quotes: On the Origin of the Ritual and Early Years of the Order of Patrons of Husbandry" with Amazon and the Amazon Kindle Store. The e-book will be added to the Barnes and Noble Nook Store after the exclusivity deal expires. Continue reading →