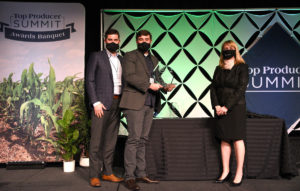 During the 2021 Top Producer Summit several awards were presented. A big congratulations goes to the Henry family and LongView Farms. They are the recipients of the 2021 Top Producer of the Year Award.
Accepting the award were Scott and Eric Henry, sons of Steve and Laurie Henry who started the farm. The sons are now the primary managers of the farm and are looking at new farming alternatives to grow the business. The farm was not originally named Longview Farms. In my interview with Eric he tells the story of the name change and what it means.
You can listen to acceptance remarks from Scott Henry here: Remarks from Scott Henry 1:15
You can listen to an interview with Eric Henry here: Interview with Eric Henry 3:34
You can learn more about the farm here.