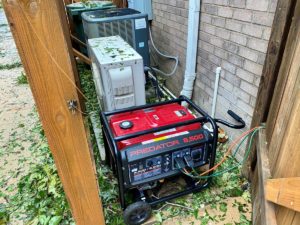 A generator and cell phone WiFi are keeping ZimmComm in operation here at world headquarters near Pensacola, Florida after being hit by Hurricane Sally yesterday.
We are very fortunate to only have some trees and branches down and a little tear in the pool screen, probably a few missing roof tiles. If you are seeing the pictures from the storm damage in Pensacola, that is not us, fortunately. But it is everywhere around us. We are just in a very sheltered spot away from the floodplains and very wind mitigated. Still, being without power and internet makes work pretty challenging. Cell phone WiFi is pretty slow because that's what everyone is having to use!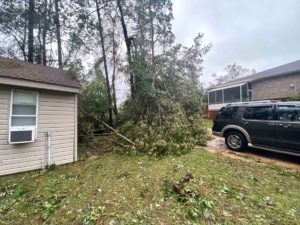 This was my first ever hurricane and the first Chuck has been through since he was a kid in Sarasota, Hurricane Alma in 1966. Because of our location, we were able to stand out on the lanai and watch the awesome power of the storm. I even did a Jim Cantore impression in our front yard, stepping out briefly in 100 mph winds! I found it totally fascinating.
It was amazing that the storm stopped around noon yesterday as the eye came over us and Sally broke apart. Chuck fired up the grill and made some shrimp for dinner with stir fry over a propane fish cooker. He is smoking beef roast today! I think we will survive.