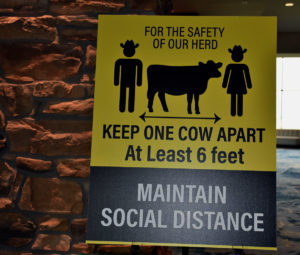 The National Cattlemen's Beef Association's (NCBA) Annual Summer Business Meeting is underway this week in Denver, with more than 500 cattle producers, industry partners, and stakeholders gathered, both in-person and virtually, for policy development, education, and long-range planning.
"It's really important that we did do this in-person meeting," said Marvin Kokes, NCBA Senior VP for corporate relations and events. "Cattlemen like to get together and really look each other in the eye and have a good face to face discussion."
NCBA unveiled the Beef Industry's Long Range Plan (LRP) during General Session, which includes industry priorities and the vision for promoting Beef, America's premiere protein, over the next five years. Idaho rancher Kim Brackett and chair of the LRP Task Force, presented the new plan and NCBA's Board of Directors will vote on the proposed plan at the Wednesday board meeting.
Summer Business Meeting will also feature important policy committee meetings like the Live Cattle Marketing Committee, which will consider several policies of importance to the industry.
Listen to an interview with Kokes about the summer meeting.
Interview with Marvin Kokes, NCBA (6:02)

Since so many reporters are unable to attend the conference in person, AgNewsWire is featuring interviews and photos from the event.