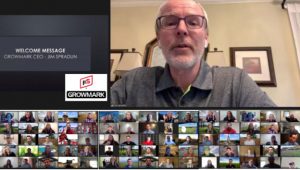 GROWMARK's legacy internship program that just celebrated 60 years will continue this year with a little change – the program will primarily operate virtually in an effort to keep interns and employees safe. The 2020 interns who will spend the next few weeks learning from professionals in the GROWMARK/FS System were recently welcomed to the program via video chat by GROWMARK CEO Jim Spradlin.
Thirty college students are exploring agricultural career opportunities this summer as GROWMARK Interns. They are working at FS member cooperatives in Illinois, Iowa, Wisconsin, Missouri, and Ontario, Canada; as well as the GROWMARK corporate office in Bloomington, IL, and GROWMARK FS in the northeast.
The interns are exposed to accounting, marketing, and product and service-related activities. Each intern will complete a business-related project and deliver a presentation on their project at the conclusion of their internships.
The GROWMARK internship program began in 1959 with three interns. Since then, more than 1,300 students have been involved in the program.