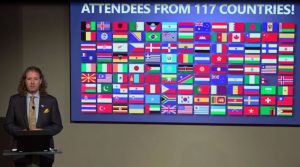 Alltech's annual conference was always a pretty good-sized international event, regularly drawing over 3,500 attendees from 70 countries.
This year, the company made history with the Alltech ONE Virtual Experience attracting over 23,000 participants from 117 countries.
"This is a number that we never could have dreamed to bring together in a physical format," said Alltech president and CEO Mark Lyons in his closing keynote.
The virtual experience began this week with on-demand focus sessions, streaming keynote presentations and live Q&A chats with select speakers, and Lyons says that will continue each month with new content for attendees – and best of all, you can join anytime. "This is what we wanted to create, this community of the ONE Virtual Experience to be year round," said Lyons in a wrap up interview. "We have 23,000 now, I'd like to grow that to double by next May."
Listen to Lyons' closing keynote and wrap up interview below:
Planet of Plenty: We're in this Together
Alltech ONE Virtual closing keynote Dr. Mark Lyons (33:36)

Alltech ONE Virtual wrap up interview Dr. Mark Lyons
(15:02)