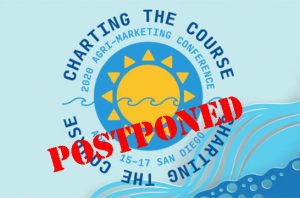 The National Agri-Marketing Association (NAMA) is charting a different course for the 2020 Agri-Marketing Conference.
In light of the rapidly changing situation with COVID-19, NAMA leadership has made the very difficult decision to postpone the annual Agri-Marketing Conference scheduled for April 15-17 in San Diego.
​While the conference is postponed, it is not canceled! The NAMA board is actively looking at dates and locations for a rescheduled conference later this summer. We will announce more as soon as details are confirmed.
NAMA will automatically transfer registrations already made to the rescheduled conference date, unless a refund is requested through the NAMA office. Hotel reservations at the Sheraton San Diego Hotel & Marina may be cancelled without penalty and all major airlines are currently offering waivers for travel previously scheduled in March and April.