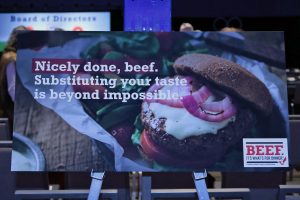 A new series of ads from the National Cattlemen's Beef Association (NCBA) shares facts about beef with consumers in an open, transparent and conversational way.
"For the first time, we're really getting out there and being more aggressive in defending beef, and specifically addressing some of those myths and common misconceptions when it comes to beef," said Season Solorio, NCBA Brand Marketing and Communications.
The ad campaign is running on Facebook, Instagram and Twitter, as well as on BeefItsWhatsForDinner.com.
CIC2020 Interview with Season Solorio, NCBA
3:48
2020 Cattle Industry Convention & NCBA Trade Show Photo Album