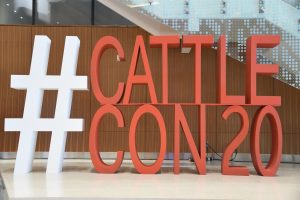 Meetings have been underway for two days already in San Antonio as cattle industry representatives have been gathering for the 2020 Cattle Industry Convention & NCBA Trade Show this week. But today is the day it officially gets underway with the opening general session and trade show welcome reception this afternoon.
National Cattlemen's Beef Association president Jennifer Houston of Tennessee expects a big crowd at the convention this year. "We're hoping over 9,000 if weather in the Midwest doesn't affect it," she said. While that seems like a lot, Houston says it's really just one big family. "That sounds a little cliched but the beef industry and agriculture as a whole is a family and we're so small a family compared to the rest of the world that we've got to stick together."
Houston says the industry has had a number of policy and trade victories recently so the mood this week should be upbeat. This morning, the NCBA Executive Committee approved the organization's top 2020 Policy Priorities, which include issues related to international trade, proper regulation of fake meat, and regulatory reform, and is focused on implementing and protecting the gains made in 2019 while further advancing progress into new territory.
CIC2020 Interview with Jennifer Houston, NCBA president
Press releases, photos, interviews and other audio from #CattleCon20 are all being posted on the official convention virtual newsroom.
2020 Cattle Industry Convention and NCBA Trade Show Photo Album