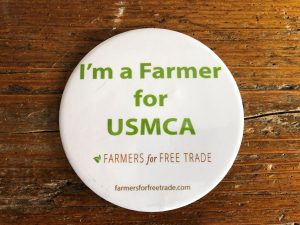 By a vote of 89-10 the U.S. Senate approved the United States-Mexico-Canada agreement (USMCA) today and sent it on to President Trump for his signature.
Just before the vote, Senate Majority Leader Mitch McConnell (R-KY) said USMCA will benefit the entire economy, but especially agriculture – "farmers, growers, cattlemen, manufacturers, small businesses, big businesses."
Sen. McConnell floor speech prior to USMCA vote
(2:18)
Reaction from the agricultural sector was quick and positive.
Farmers for Free Trade – "Today's overwhelmingly bipartisan show of support for North American trade will help restore certainty and predictability in our farmers' most important markets. USMCA also provides important ag victories including on market access for poultry and dairy, provisions that require science-based decision making on trade, and advances in supporting 21st century agricultural innovations."
The Agricultural Retailers Association (ARA) – "Agricultural retailers and their farmer customers will directly benefit from the expanded market access and the preserved zero-tariff platforms among ag products, which is a relief during a challenging time in the ag economy."
American Seed Trade Association (ASTA) – "Mexico and Canada are the two largest markets for U.S. seed, with 2018 exports combining for a total of $630 million. Today's passage of USMCA provides much-need certainty as well as some key reforms to ensure continued open market access to these two critical trading partners."
American Farm Bureau Federation (AFBF) – At a time when farmers continue to face strong economic headwinds, the agreement is expected to increase U.S. agriculture exports by $2 billion.
National Farmers Union (NFU) – Though USMCA is not a perfect replacement, it does make some important changes to its predecessor. We are particularly encouraged by the inclusion of stronger labor standards, more robust enforcement mechanisms, and better environmental protections.
American Coalition for Ethanol (ACE) – "Although USMCA doesn't set ethanol-specific trade provisions, its ratification positively reaffirms this long-standing relationship with markets next door as we enter into this new decade of market growth."
Renewable Fuels Association (RFA) – Canada and Mexico are among our most important and reliable export markets for both ethanol and distillers grains, and we look forward to strengthening our trading relationship with the two countries.
National Cattlemen's Beef Association (NCBA) – "The ratification of USMCA is a crucial win for all U.S. beef producers and a reassurance that U.S. beef will continue to have unrestricted, duty-free access to Canada and Mexico."
National Pork Producers Council (NPPC) – "USMCA provides U.S. pork producers with certainty in two of our largest export markets. It received strong support in both chambers of Congress, and we look forward to seeing President Trump sign it into law."
National Corn Growers Association – "NCGA thanks the U.S. Senators who voted to ensure corn farmers will continue to have access to our largest and most reliable markets and is especially grateful for the leadership of Senate Finance Committee Chairman Chuck Grassley who has been a steadfast supporter of corn growers and committed to getting USMCA across the finish line."
American Soybean Association (ASA) – "In addition to securing the Mexican market as the second largest importer of U.S. soybeans, the terms agreed to by Canada will increase U.S. poultry and dairy exports, which is also a positive for our industry."
Edge Dairy Farmer Cooperative – USMCA is 'landmark victory' for dairy farmers, processors.