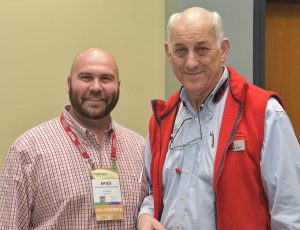 The Southeast Regional Fruit and Vegetable Conference returns to Savannah, Ga. and really kicks in to gear today. In 2019, the educational event and trade show hosted more than 3,300 attendees and 290 vendor companies.
Sponsored by Georgia Fruit & Vegetable Association and the Georgia Peach Council the conference is held at the Savannah International Trade and Convention Center. The event features three days of educational workshops and seminars, a two-day trade show and several other evening networking opportunities.
To get an overview of the event I sat down with Charles Hall, Executive Director, Georgia Fruit & Vegetable Association, pictured on the right with current association president Aries Haygood. We discussed the work of the association and how this conference came in to being.
I was interested to find out that big general sessions were discontinued years ago. Instead the conference features many, many educational sessions on a variety of commodities like peaches, blueberries and so many more. However, a "super session" is scheduled when needed and this year we have one on trade. The session is setup in a larger room in anticipation of a larger attendance. We're expecting Under Secretary of Agriculture for Trade and Foreign Agricultural Affairs, Ted McKinney to be here.
Learn more about this conference in my preview interview with Charles.
2020 SRFVC - Interview with Charles Hall, GA Fruit & Vegetable Association
2020 Southeast Regional Fruit & Vegetable Conference Photo Album