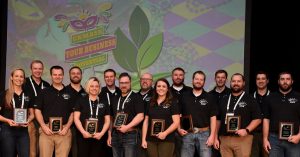 The Agricultural Retailers Association (ARA) once again recognized a group of top performers and emerging leaders as "Rising Stars" during the 2019 ARA Conference & Expo last week in New Orleans.
The ARA Rising Stars program, sponsored by AGI Fertilizer Systems, is an opportunity for member organizations to nominate staff members or various experience and age to be recognized and celebrated for the work they are doing in the agricultural retail field at the premier event in ag retail. ARA knows that when employees are challenged and engaged in their own professional development, companies are more likely to retain a higher number of high achieving employees.
Nominations are accepted annually from mid-June until early September and are open exclusively to ARA members. See a full list of the ARA Rising Stars Class of 2019.
One of this year's Rising Stars is Cameron McAnally, retail market manager for FMC in West Texas. In this interview, he talks about what participation in the program means to him.
ARA19 Interview with ARC Rising Star Cameron McAnally, FMC
(2:12)