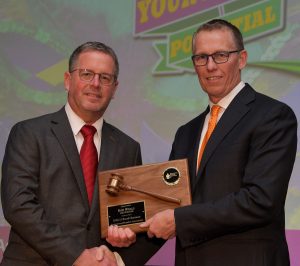 The gavel has been passed and the 2019 Agricultural Retailers Association (ARA) Conference & Expo is New Orleans is a wrap.
Rod Wells of GROWMARK (pictured left) was installed as chairman of the association during the closing session of conference, succeeding Troy Johnson of Wilbur-Ellis in the role.
"I am proud of the work our board of directors and ARA staff has done over the course of the last year and look forward to passing the leadership to a highly talented new chairman," said Johnson.
In his remarks, Wells shared his plans for his term as chairman.
"I am humbled and honored to serve as chairman of the Agricultural Retailers Association," said Wells. "I look forward to engaging with the ARA membership, board of directors, and staff to execute the current strategic plan and continue the outstanding work started by Chairman Troy Johnson, and Chairman John Oster before him.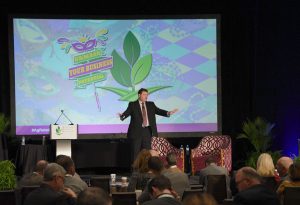 ARA President and CEO Daren Coppock says this year's conference and expo exceeded his expectations. "The ARA members and industry partners in attendance walked away with knowledge they can leverage to improve their customer service, streamline their operations and address the issues they face each day," said Coppock.
"This event provided us an opportunity to reflect on the last year and renew our excitement for the coming year. I look forward to taking the information gained from our speakers and members and applying it to our work representing the ag retail industry."
Listen to interviews with Coppock, Johnson and Wells below and find more content in the ARA conference virtual newsroom.
ARA19 Interview with outgoing ARA chair Troy Johnson, Wilbur Ellis
(3:46)
ARA19 Interview with incoming ARA chair Rod Wells, GROWMARK
(7:03)
ARA19 Wrap up interview with ARA CEO Daren Coppock
(3:55)