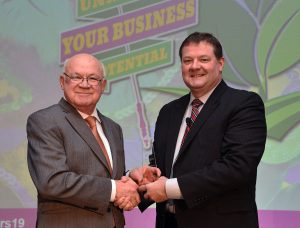 Tim McArdle, executive vice president at BRANDT, was honored today with the with the Agricultural Retailers Association Distinguished Service Award for his support of the association and the agricultural retail industry.
McArdle's long-term service to ARA through participating on the board of directors and in officer roles is one reason he is being recognized; however, it is how he stepped out of ARA leadership and into leadership roles for two allied organizations, ResponsibleAg and AgGateway, that secured his place as the 2019 winner of ARA's Distinguished Service Award.
"Both of these organizations are rendering very important services to ag retailers, and McArdle plays a critical role as chairman of both," says ARA President and CEO Daren Coppock.
McArdle grew up on a farm in south Alabama and received his Master of Science from Auburn University. Prior to joining BRANDT, McArdle was at Trace Chemicals for 25 years serving as partner and general manager of Trace Chemicals. Listen to his remarks upon receiving the award:
ARA19 DSA winner Tim McArdle, BRANDT
(4:05)