Soy-based motor oil is a new opportunity to drive demand for U.S. soybeans in almost any vehicle on the road.

Biosynthetic Technologies' high-performing biobased synthetic motor oil, using high oleic soybean oil from soybeans grown by U.S. farmers, is now on commercial shelves, thanks to a partnership with the United Soybean Board (USB).
Both USB and the U.S. Department of Agriculture have supported the soy-based, drop-in synthetic alternative to petroleum-based motor oil. The biobased alternative is well-suited for high-temperature automotive and industrial applications. Biosynthetic Technologies' motor oil is also recognized as a USDA Certified Biobased Product in the agency's BioPreferred Program.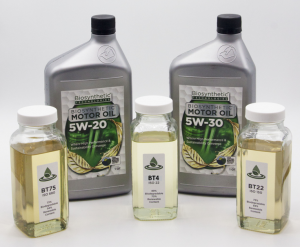 "Our motor oils are certified by the American Petroleum Institute, and not only do they reduce sludge and varnish, they improve fuel economy and provide environmental benefits for renewability and biodegradability as well," said Biosynthetic Technologies Executive Vice President Jakob Bredsguard. "Our revolutionary new class of biobased synthetic compounds have enabled us to commercialize an automotive engine oil that is biodegradable while delivering the highest levels of performance."
The company will market both 5W-20 and 5W-30 through Amazon.com and direct from their website.
Biosynthetic is also offering farmers a limited-time 20% discount to purchase the synthetic oil. They can use code BioTrialFarm available only at motoroil.biosynthetic.com through January 31.
Learn more about Biosynthetic® Performance motor oil powered by soybeans in this interview:
Interview with Jakob Bredsguard, Biosynthetic Technologies