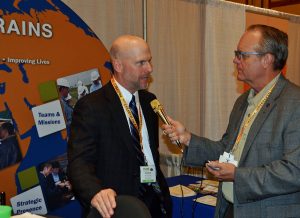 Trade was probably the top topic at NAFB Trade Talk last week and the U.S. Grains Council was more than ready to talk about it.
Darren Armstrong, a North Carolina farmer who is currently serving as chairman of the council, discussed the need for Congress to ratify USMCA, the new agreement with Japan, potential for ethanol in China, and some of the other markets where the council is very active promoting U.S. exports.
The first time Chuck interviewed Darren was in 2009 on a USGC trade mission to Morocco, Egypt and Jordan so they enjoyed catching up and reminiscing about that trip.
NAFB19 Darren Armstrong, US Grains Council
(4:26)