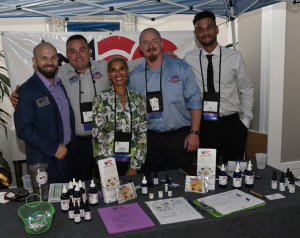 The CBD industry is a significant opportunity for veterans, not only when it comes to treating medical challenges but also when it comes to finding purpose professionally after serving, according to Joshua Littrell, founder and CEO of Veterans for Cannabis.
Littrell was at the Inaugural Florida Industrial Hemp Conference in Orlando, where the group shared its purpose and product line with others in attendance. Veterans for Cannabis began in 2014 as an advocacy group and entered the industrial hemp business in 2015 with a product launch.
"The big purpose behind the product launch was to find a safe alternative to the pharmaceuticals that were killing us," said Littrell, who believes the products can help to reduce accidental overdoses and mitigate suicides.
The product line is grown by veterans, for veterans, from seed to sale. Littrell encouraged people to begin the conversation about the potential benefits of medical cannabis with veterans in their own families. More information is available at www.vcfusa.com.
Listen to Chuck's interview with Joshua here: Interview with Joshua Littrell, Veterans for Cannabis
2019 Inaugural Florida Industrial Hemp Conference Photo Album