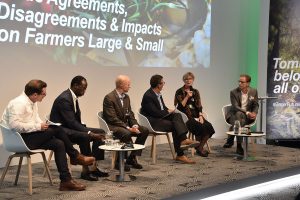 Trade disputes, tariffs and negotiations are a significant factor when looking at the future of agriculture around the world.
The Bayer Future of Farming Dialogue last week included a panel on trade featuring Iowa farmer and former president of the National Corn Growers Association Pam Johnson.
Johnson says a free trade world is a necessity for agriculture. "Trade wars are not easy to win and the tariffs are killing us."
The panel also included Dirk Backhaus, Bayer Crop Science division; Rodrigo C.A. Lima, Agroicone; and Okisegere Ojepat, Fresh Produce Consortium of Kenya.
Bayer Future of Farming Trade Panel Discussion
In this interview, Johnson talks about USMCA and other trade issues for U.S. farmers.
Interview with Pam Johnson, Iowa farmer